It's important to manage your lung condition and stay healthy during COVID-19 to avoid unnecessary visits to the hospital. It is recommended to include exercise and a healthy diet into your daily routine
Research has shown that exercising is highly beneficial for people living with a chronic lung disease. In fact, it is widely recognised that one of the best things you can do for yourself is regularly exercise to help maintain your fitness, improve your wellbeing and reduce symptoms such as breathlessness. However, you might be wondering how to maintain your physical health while practising social distancing and self-isolation. We have teamed up with healthcare professionals to provide you with information on how to practice exercise and healthy eating while spending your time at home. 
Keeping active at home
While you might not be able to go to the gym or your local pool, or attend pulmonary rehabilitation or Lungs in Action classes at the moment, it's still really important to keep your body moving and maintain your exercise habits. If you're not used to exercising at home it may feel a little strange and daunting and you might find it hard to stay motivated. There are lots of ways that you can fit simple exercises into your daily routine without even realising you're working out. We're here to help you stay on track.
With some support and guidance, goal setting and regular scheduling, it is possible to participate in an exercise program without leaving your home. It may look a little different to what you are used to, but in times like these, using every opportunity to keep your body moving is vital.
Research has shown that exercising is highly beneficial for people living with a lung condition. Participating in regular exercise provides some of the following benefits:
Reducing symptoms such as shortness of breath
Alleviating anxiety and depression
Boosting your immune system
Improving energy levels and reducing tiredness
Maintaining muscle strength and joint flexibility
Keeping you well and out of hospital
Increasing your overall quality of life.
Before starting a home exercise program, ensure you have consulted with your GP or a qualified exercise professional, such as a Physiotherapist or Exercise Physiologist, to ensure that you are fit and able to exercise safely at home. Many health professionals are now offering telehealth appointments – so you can consult with them via the telephone or a video call.
During this consultation, make a plan, which should address your individual health status, as well as your own personal exercise goals, taking into consideration the equipment (e.g. bags of rice, tins of beans) and space (e.g. backyard, garage) you already have available at home. Using a resource like Lung Foundation Australia's Better Living with Exercise Guide can help you to track your exercise progression.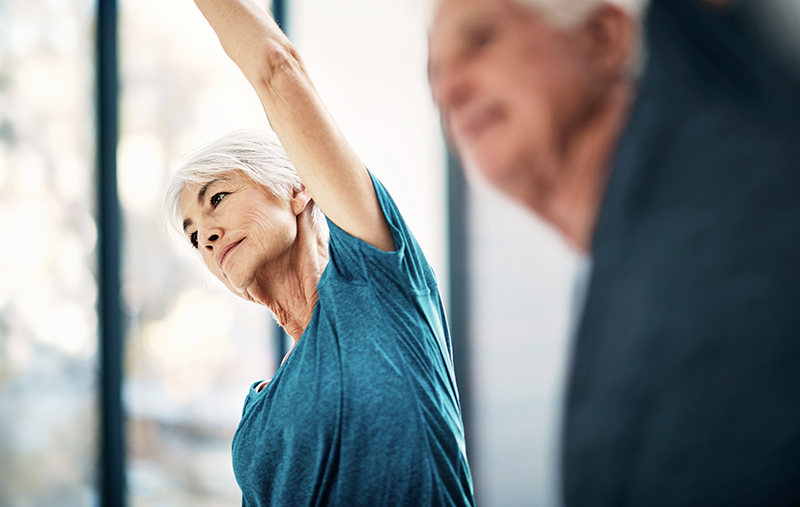 It can be hard to maintain your motivation to exercise, especially while at home. Here are some tips from Lung Foundation Australia's Exercise Physiologist, Emma, on how you stay motivated and continue with your home exercise program:
Schedule a regular workout time – set an alarm to remind you if that helps
Team up with a member of your household so you can keep each other motivated
Link in with family or friends so you can virtually exercise together
Put on your favourite music while you work out
Above all, don't forget to have fun!
Other ways to keep active during this time may include:
Tuning in to Lung Foundation Australia's Maintaining Movement video series – complete the exercises alongside our Exercise Physiologist
Trying an online Tai Chi or Yoga class – there are many seated options for those who may have difficulty with their balance
Trying an online dance video – Respiratory Public Health Specialist and Dance Facilitator Sian Williams, in collaboration with the Life of Breath team, has developed videos specifically for those who experience breathlessness. Access them here.
Home-based Exercise Series
Our Pulmonary Exercise Manager and Exercise Physiologist, Emma is hosting an at-home exercise series to help you maintain movement. The series will take you step-by-step through simple exercises that can be completed at home with objects found around the house.
Before commencing any exercise please consult your practicing healthcare team and read our Exercise Safety Guidelines.
Respiratory Care Nurse
The Respiratory Care Nurse telephone service is available for people living with Chronic Obstructive Pulmonary Disease or bronchiectasis. Our skilled nurse can provide guidance on all aspects of your condition according to the management guidelines. Please contact our Information and Support Centre to make a booking with the Respiratory Care Nurse, on the free call number 1800 654 301.
Healthy Habits
You might be wondering how you can keep up your healthy habits during social isolation and with limited options available at the grocery store. Lung Foundation Australia Respiratory Care Nurse Amanda Curran sat down to share her tips and advice.
"The food you eat gives you the nutrients and energy you need to breathe and can help your body to heal. If you're trying to prevent catching any bugs or you've been unwell with a flare-up, it's particularly important to be conscious of what you're eating," Amanda said.
"Often people think healthy eating means hours in the kitchen preparing meals and expensive trips to the grocery shop. If you commonly experience fatigue and breathlessness it may be difficult to spend lots of time prepping and cooking.
Find out more
"It doesn't have to complicated – choosing nutritious and easy to prepare snacks and meals that only need a few ingredients can help to keep prep time short.
"Cooking may only be realistic a few days a week, which is completely normal so try and cook extras that you can keep in the fridge or even freeze. A slow cooker is great for this and an easy way to ensure you're getting a variety of vegetables in your diet.
"On the other days it's good to have things that are really easy to prepare on hand, like a rotisserie chicken and frozen vegetables."
In the current circumstances it may be difficult to find some ingredients at the grocery store but it's still important to try and make healthy choices. Some supermarkets have introduced delivery options for at-risk groups. If you haven't already, you'll need to speak with your GP about getting a letter to support your application for this service.
Alternatively, we encourage you to enlist the help of family, friends or neighbours to pick up your essentials for you and leave them at your door. This will help reduce your need to leave your home and put yourself at risk of exposure to the virus.
When it comes to cooking and eating, Amanda says it's helpful to consider when you feel most energetic during the day and use this time to prepare meals, or even change your mealtimes to suit your body.
"If you feel good in the morning, this might be a good time to cut up the ingredients in preparation for your evening meal or get something going in a slow cooker. If you feel like you have more energy in the afternoon than the evening, consider switching your mealtime to early and having a small, nutritious snack later in the evening," she said.
"Eating your big meal when your energy levels are highest is less taxing on your body and may make it easier for you to get through the meal. Listen to your body and find what works for you."
Tips to creating healthy habits 
Keep easy and nutritious snacks options on hand such as yoghurt, baked beans, canned fish, cheese and crackers, fresh boiled eggs, dried fruit and nuts

 

To reduce prep time, pick whole foods that are ready-to-eat in their natural form like apples, bananas, carrots or cucumbers

 

Consider meal delivery services, such as Meals on Wheels which can provide a three-course meal for about $7–$10

 

Ready prepared meals, available through a number of companies including Lite n' Easy and Tender Loving Cuisine, are easy options you can pick up in your next shop.
Quit smoking
Now is the time to quit smoking. There is growing evidence that people who smoke may be at higher risk of COVID-19 and its complications. Quitting smoking is an important step to take to protect yourself from COVID-19. For more information about the other benefits of smoking cessation and advice, visit the Quitting Smoking page. 
Call Quitline today to start planning your quit journey, 13 78 48. 
State based programs: 
Find out more
United against COVID-19
You can help us support the most vulnerable Australians through this difficult time.