For Bill, research means more time to see his grandchildren grow. And research means hope … hope for greater understanding of lung disease, and of better medications to deal with it.
Bill, father of three and grandfather to five, was diagnosed with Idiopathic Pulmonary Fibrosis (IPF) in March 2015. Since then, despite having just 53 per cent lung capacity, Bill has taken on two gruelling physical and mental challenges, sharing his inspiring story with communities along the way.
In 2017, Bill completed The Long Walk for Lungs, a 15-day, 700km walk across central NSW which raised more than $100,000 to fund research and support services. Then, in 2018, he completed The Long Kayak for Lungs – a 42-day, 2,200km journey along the Murray River which raised another $94,000 to support Australians living with lung disease. From 2016 to 2018 Bill's fundraising activities raised more than $210,000 for research.
Those staggering efforts helped to fund the work of Tylah Miles, whose research into immune cells in lung fibrosis patients may eventually identify novel therapeutic targets.
"Through the association with Lung Foundation, I was able to get an understanding of how you could directly fund research," Bill said.
"There is a real inequity in research about some of these lesser-known diseases.
"I hope (research such as Tylah's) will provide the knowledge, alongside medications, to ease the journey; slow disease progression and in some cases even cure it."
Bill recalls it was a "little scary" when he was first diagnosed with early-stage IPF.
"My older sister had been diagnosed with Interstitial Lung Disorder. So I was aware of disease progression …
"My wife Lesley had just come through eight months of treatment for ovarian cancer, and we were in the process of being grateful that all went well and that she was in remission, and still is thankfully.
"It was also a bit of a shock for my children, as they had watched my sister, their aunt, go through something like this several years earlier, at a time when little could be done. I didn't tell a lot of friends, as I'd decided to have this fight privately.
"In hindsight this was a mistake as support is key, particularly in the early days … I discovered that you can easily become consumed with the outcome rather than the journey, and what is not possible rather than what is."
Bill, with the assistance of new medications becoming available, has defied the original diagnosis and takes great heart from research and pharmaceutical developments.
"That was a great boost in the early days. I went from being told there's nothing we can do for you (to) suddenly having access to drugs. Even in the past six or seven months, some of these larger pharmaceutical companies have made further investments into research of pulmonary fibrosis …
"What I do struggle with is the fatigue that seems to accompany IPF. But I accept that and work my life around it. We still travel, eat out, and I work, just not at night.
"The side effects can take a toll on the mental side, as can be quite physically draining, but I have maintained my role and exercise despite them.
Who knows what research may provide for us in the years ahead … there is no hope without research, and there is no research without donations."
Give hope to Australian families affected by PF. Every dollar makes a difference and fuels life-changing research.
---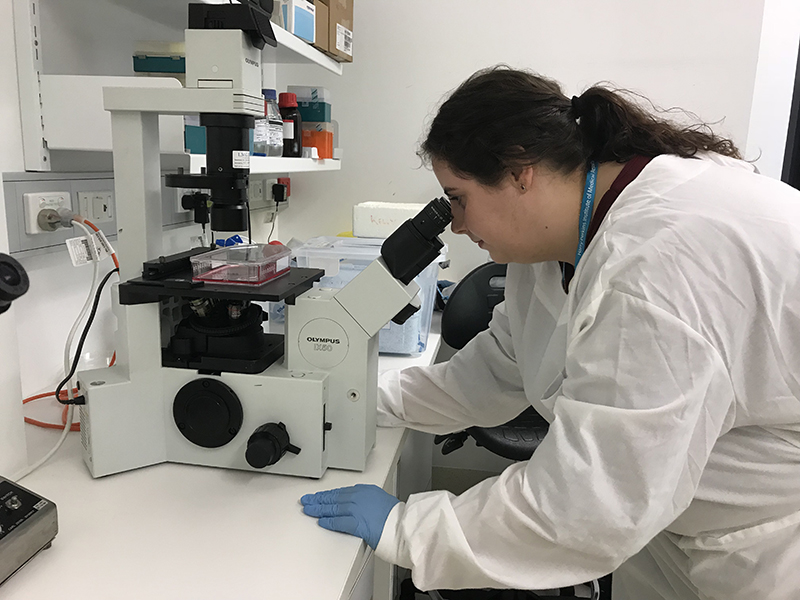 Meet the Researcher
Through investigating cell-mediated responses driving lung fibrosis, Tylah Miles is hoping to discover potential novel therapeutic targets. Funding from Lung Foundation Australia has allowed Tylah to work full-time on her research, working towards an improved quality of life for people with lung diseases.