By Freddy's mother Melissa
Whenever anybody asks me what condition Freddy has, I'm asked- 'bronchi-what?'
As a baby, I thought that Freddy had cystic fibrosis. He always had a cough, he was always sick and he had recurrent croup resulting in numerous hospital visits. I was told many times that he had asthma but my mother's instinct told me it was something more.
I work as a paediatric nurse and having this underlying knowledge has helped me to get the diagnosis that we were searching for – unfortunately, not everybody else is so lucky.
After a few years of coughing, many emergency department visits, and many, many infections, we moved to this beautiful country. Freddy was three years old. For the first six weeks in Australia, Freddy was coughing – you haven't heard anything like it.
It is chronic, it is wet, it is mucousy. It wakes the whole house up. It makes him so tired and lethargic. He often gets out of breath.  It makes him vomit. It is absolutely heart-breaking to see.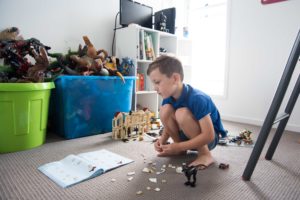 After chatting with a colleague with a respiratory background at the Lady Cilento Hospital about Freddy being unwell, she made a few phone calls. I was lucky enough to get an appointment the following week and he was booked for a bronchoscopy and sweat test.
The sweat test was negative but the bronchoscopy and CT scan showed that Freddy had bronchiectasis and tracheobronchomalacia. We were so relieved that we had a diagnosis. This meant that we could have a plan for Freddy and hopefully put some strategies in place to prevent and relieve his symptoms.
Freddy needs to do daily airway clearance and physiotherapy – once a day when he is well and twice a day when he isn't. He does this with different jumping exercises and huffing techniques to try and clear his lungs. We also use percussion techniques when he is sick. This is a 'patting technique' – we call it the drums – to try and shift the mucus to help Freddy to cough up anything that he may have in his lungs. He hates this one!
We feel like the worst parents ever sometimes, especially when he is so sick. We have to make him do his physio, no matter how he is feeling. He can be crying saying his chest is hurting and he's so tired, but he has to still do it. It has me in tears sometimes but I have to remind myself that it is all to make him better.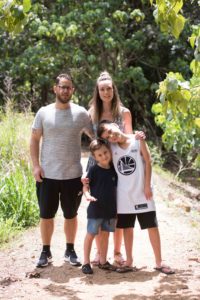 Bronchiectasis definitely affects the whole family. Freddy can't mix with any children who have the same condition or cystic fibrosis as it can cause cross contamination. It's important he avoid being around 'sick people' and we have to ask friends/family not to visit if they have a cough or cold as this could end with Freddy admitted to hospital. He was unable to be in the same sports house as his older brother, Harry, due to another child with a similar condition. I have to save up my annual leave in case Freddy has an exacerbation and my husband and I have had time off work due to sickness and hospital appointments.
Freddy is affected by smoke. We live in a semi-rural area and have burnoffs in the winter. Freddy had to stay home from school and when he went back in, he had to wear a mask and stay indoors with all the windows and doors closed. He was unable to go out and play with his friends. He misses out and feels singled out when he has to wear a mask. He just wants to be like any other child, and not to feel different.
Freddy spent last Christmas in hospital and was so spoilt by the staff. Harry often says he wishes he had bronchiectasis – he doesn't quite understand what Freddy has to go through. It breaks my heart as we try to do special things with Harry too but the focus is mainly on Freddy because he is always sick.
We have to ensure Freddy is very active so he swims twice a week and does other sports too. You would think he was a healthy child – he came first in cross country and excels at sports. We are so lucky that he enjoys it!
We don't like to think of the 'what-if's' of the future. You read things about surgery and transplants, but we live in the here and now and we are so thankful to have such amazing people around us.
We know that Freddy is going to do something amazing in this world. He is hilarious, intelligent and inquisitive and the most resilient person we know. We do not let his condition define him but it has made him the person he is today, and at 5 years old, I think that he is pretty amazing already!
Recently, we went to the GP for a prescription for Freddy and they asked what bronchiectasis was. That pretty much summed things up for me and we wanted to help to make a difference. We want to ensure that health professionals are well informed and have all the information they need to be able to support families like ours.
The Australian Bronchiectasis Registry provides information on the incidence, diagnosis and mortality rates of the disease, without which, it is very difficult to make advancements in finding new treatments and a possible cure. I am so grateful for the Lung Foundation and the amazing research advancements that they are making into bronchiectasis as it gives families like ours hope.  We need to raise awareness and attract more government funding into helping others living with this lung disease.
We're raising urgent funds to increase support and research into bronchiectasis, so Australians like five-year-old Freddy have a brighter future. Donate here today.