Living with silicosis can be tough. Sometimes it might make you feel like you're a burden to others as you are dealing with the physical symptoms and limitations of the condition, as well as experiencing a range of challenging emotions.
In this blog, we will explore some practical ways to navigate feeling like a burden that may arise when a person is living with silicosis.
Acknowledge your emotions
It is important to try and acknowledge and accept your emotions. It is normal to feel overwhelmed, frustrated, angry or scared when you are living with silicosis. Some people report that they feel like a burden to their loved ones when they need help with tasks that they managed in the past. If this is how you are feeling, give yourself permission to recognise this is normal and you will not always feel this way. It may also feel as though you are grieving because the life you planned may no longer be the life that lies ahead. The Processing your diagnosis through the stages of grief blog provides some coping strategies to help you manage.
Talk to your loved ones
Talking to others about your condition will help you process and manage the feelings of burden you may be experiencing. Talk freely with your loved ones, friends and caregivers about your emotions and worries. Sharing your thoughts can help others to understand how you are feeling and what you are going through. It will also allow them to understand how their care and support is helping you. Talking about your situation ensures that everyone involved feels heard and supported. If you want practical ways on how to talk to others about your disease, refer to our talking about your diagnosis blog.
Seek professional support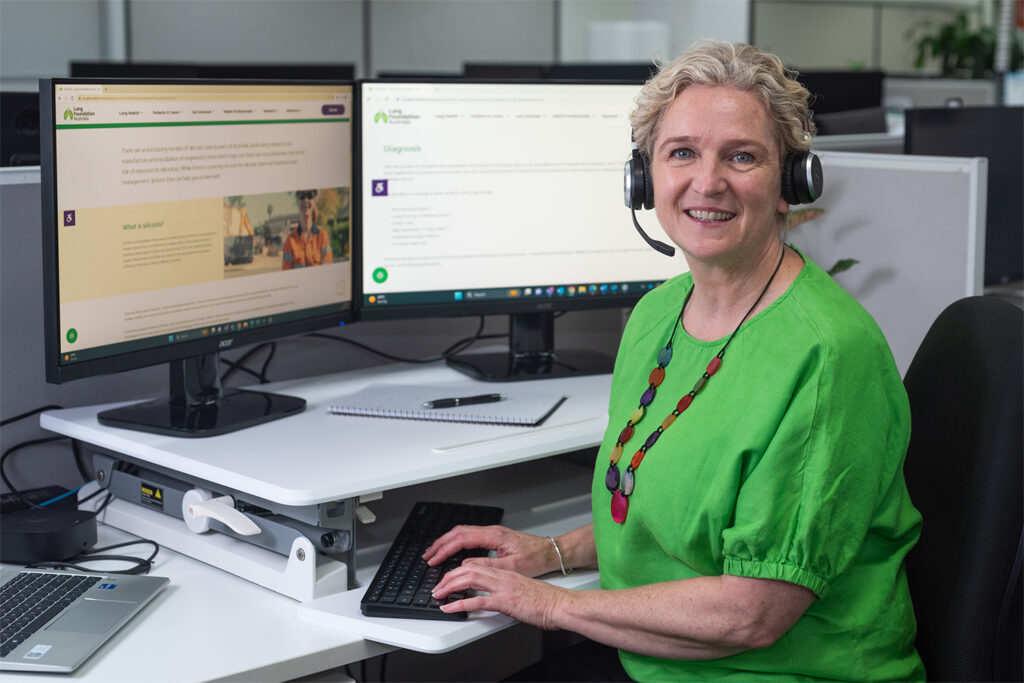 In addition to talking to your friends and family members about your worries, consider reaching out to health professionals who specialise in managing the challenges that come with a chronic disease such as silicosis. For emotional wellbeing, health and/or practical support, a social worker or psychologist can provide valuable guidance, offer coping strategies, and connect you with support groups where you can talk with, listen to, and ask questions of individuals facing similar challenges. Participating in such groups can be empowering and help you understand that you are not alone.
Lung Foundation Australia have established the online Silicosis Support Group for people living with silicosis and the Silicosis Carers Group for carers/loved ones impacted by silicosis, visit our Service directory to express your interest.
Accept support
If you do start to need extra help or care from your loved ones and friends, it can be a normal response to initially feel that you are burdening them, but it is important to remember that the people offering support in the hard times do so out of love, compassion and genuine concern. Accepting help may feel like you are losing your independence, but it may also strengthen the bond between you and your loved ones. Sharing your worries and accepting help can provide comfort and emotional support, helping you to feel less isolated.
Becoming a caregiver for a loved one explains support from a carer's perspective.
Explore coping mechanisms
Find healthy ways to cope with the emotional challenges of living with silicosis. This may include writing down what emotions you are feeling. Engage in activities which can help shift your focus or distract you from your own thoughts. Over time these types of activities may start to help reduce feelings of stress and worry and you may find enjoyment in them. Sitting on your couch watching your children play or having a cup of coffee in an area where you can see blue sky, can help you refocus on the here and now. Break down larger tasks into smaller, manageable steps and celebrate your accomplishments along the way.
Navigating a life with silicosis and possibly relying on others for care is challenging. It is important to remember your worth and value extend far beyond your condition. Although navigating your feelings and adapting to change is likely to be difficult, you are not alone, and your loved ones and friends care about your wellbeing.  
Visit our silicosis support nurse service here.
Visit our silicosis social worker service here.