This is an interactive 18 module training program designed to increase the knowledge, confidence and skills of nurses and other health professionals in the identification, diagnosis and management of patients with Chronic Obstructive Pulmonary Disease (COPD). This training includes case studies, care plans, downloadable assessment tools, quizzes, and a final assessment.
By the end of this course, participants will be able to:
Identify people at risk of COPD
Educate patients on COPD and evidence-based management
Support patients and motivate them to engage in self-management practices
Develop self-management plans with patients
Work effectively with other members of the multidisciplinary health care team
The modules covered in this training include:
About COPD
Physiology of the respiratory system
Pathophysiology of COPD
Management of COPD
Identifying people at risk of COPD
Spirometry
Measures and specialist referral
COPD medicines
Inhaler device technique
Pulmonary rehabilitation and physical activity
Breathing techniques, airway clearance, fatigue management and nutrition
Related conditions
Smoking cessation
Immunisation and long term oxygen therapy
COPD self-management interventions
Manage exacerbations of COPD.
Continuing Professional Development

This activity has been endorsed by APNA according to approved quality standards criteria. Completion of this educational activity entitles eligible participants to claim up to 12 CPD hours.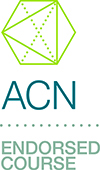 This online learning program is endorsed by ACN according to our Continuing Professional Development Endorsed Course Standards. It has been allocated 12 CPD hours according to the Nursing and Midwifery Board of Australia – Continuing Professional Development Standard.
Already enrolled? Click here to go to your course.