What do we mean by consumer engagement?
Lung Foundation Australia is committed to enhancing our partnerships with consumers, carers and families so that they are at the heart of everything we do. Our work is centred on the needs of those living with lung disease, and underpinned by the values of compassion, courage, respect and collaboration.
As we head into 2020 we are pleased to present our Consumer Engagement Strategy. Please click here to review.
The Consumer Engagement Strategy demonstrates how you can actively partner with us in the planning, implementation and improvement of our services. This includes a range of options so that consumers can decide when and how they want to be involved.
What does engagement look like?
Consumers will be able to engage with Lung Foundation Australia in a way that suits them.
A wide range of consumers can meaningfully engage with Lung Foundation Australia.
Consumer, carers and their family will be listened to and their story and lived experience of lung disease will be met with respect and dignity.
Consumers will provide advice for Lung Foundation Australia, and be involved in the design, planning, implementation and review of services, resources and campaigns.
Consumers may choose to move into a formal role within the governance structure of Lung Foundation Australia. Training will be available for consumers, carers and family members to meet requirements of a particular role.
Consumer Engagement Survey
Lung Foundation Australia invited consumers to share their voice in the 2019 Consumer Engagement Survey. We were pleased to receive a total of 348 responses, which represents a 16% response rate. These responses played a significant role in helping us shape the Consumer Engagement Strategy and partnership opportunities.
Top five responses in each category for the question, in terms of your connection with Lung Foundation Australia.
What gives you hope?
Information
Research
New treatments and medications
Cure
Support from Lung Foundation Australia.
What frustrates you?
Loss of ability and symptoms
Breathlessness
Nothing
Lack of information
Doctors availability and knowledge.
What are your expectations?
To live the best life
Quality Information
New treatment updates
Advocacy and awareness
Slow disease progression.
The following graph summarises the partnership options that appeal to the respondents.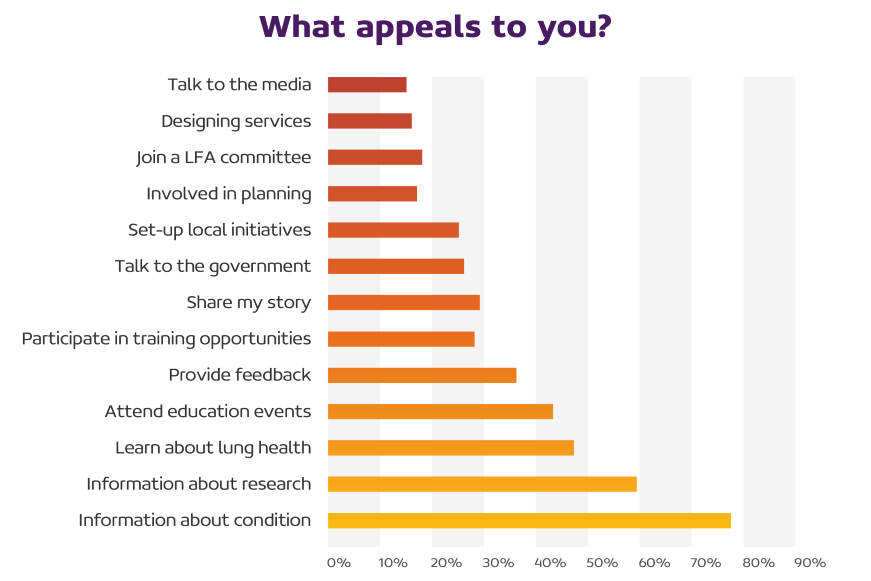 Consumer Engagement Progress
Lung Foundation Australia have progressed several Consumer Engagement activities to build and enhance our consumer partnerships, including:
Developed the Consumer Engagement Strategy with our network to drive high quality engagement
Held and facilitated visioning workshops with a disease specific focus
Revised and established five Consumer Advisory Committees
Inducted over 50 consumers into our Consumer Advisory Committees.
What's next for Consumer Engagement?
Continued consultation with Consumer Advisory Committees
Inaugural Consumer Council to be inducted
If you are interested in further discussion on consumer engagement please email: enquiries@lungfoundation.com.au
Consumer Engagement Strategy

Get the latest Lung Foundation Australia news
Stay up to date with the latest information, news, services and events by signing up to our database.