For Dr Afaf Abed, research means exploring the evidence patiently in order to improve patient health. 
Dr Afaf Abed is a medical oncologist at Linear Clinical Research – Oncology. Dr Abed believes that research plays a major role in improving our understanding of diseases and understanding cancer biology, which is critical to improving the treatment and patient health. She is passionate about using evidence-based medicine to improve the health of her patients and believes more research in lung cancer is crucial.
"My hope for the future is to find a cure for cancer, while this sounds far, far away for me at this stage, but really that's what we should be aiming to."
Please tell us a little bit about your project and what you hope to achieve.
My research project aims to improve personalised medicine. There have been great improvements in the lung cancer space with the introduction of multiple types of immunotherapy and targeted therapy. Biomarkers, such as PD-L1, help to guide the type of immunotherapy that is best for an individual, but it's not an adequate biomarker for response to immunotherapy. The reason for looking at these markers is we want to identify those who will benefit most from immunotherapy, because we want to provide the most effective treatment for an individual. This will improve efficacy and reduce toxicity.
This project will help us to improve treatment for an individual through identifying biomarkers that can be used in conjunction with PD-L1 to identify those who will benefit the most. Hence alternative or combination therapies might be used among those who are unlikely to benefit from single agent immunotherapy.
What have been some of the key findings or outcomes that you've seen so far?
I've found that someone who is heterozygosity – the condition of having two different alleles at a locus – is more likely to be able to attack cancer and have a longer survival when treated with immunotherapy. While those who are homozygous – having two identical alleles of a particular gene – are less likely to survive longer when treated with immunotherapy.
I believe my project will add to the development of precision medicine and translation of research in order to identify those patients who will benefit the most from immunotherapy. As a result, reduce the toxicity on those who are less likely to benefit from single agent immunotherapy. Those patients might benefit from dual immunotherapies, the addition of chemotherapy or targeted therapy in order to improve efficacy.
How important was funding from Lung Foundation Australia to your work? 
The funding from Lung Foundation Australia played a major role in giving me the ability to achieve my analysis to give a meaningful result that can contribute to the advancement of literature and our understanding of the role of genomic HLA in cancer. I was able to analyse higher numbers with the funding I got from the Lung Foundation Australia. In addition to that, the funding will allow me to perform the T-cell receptor analysis, which is quite expensive.
What would you say to someone who is considering donating to lung disease research?
The only way to improve our understanding of lung cancer and its treatment is through research, and research needs funding. It's a generosity, from those who donate to lung cancer research, which we need and appreciate.
What would you like to say to the fundraiser, Elizabeth, who made this research grant possible?
I really appreciate Ellen Yates' family that contributed to my research. I met the daughter, Elizabeth, and I thanked her with very warm words. The whole aim at the end is to improve the health and wellbeing of our patients, which could be my Mum, my Dad or my relative. Hence, any improvement in our understanding of lung cancer and treatment optimisation, means I'm actually looking after my family.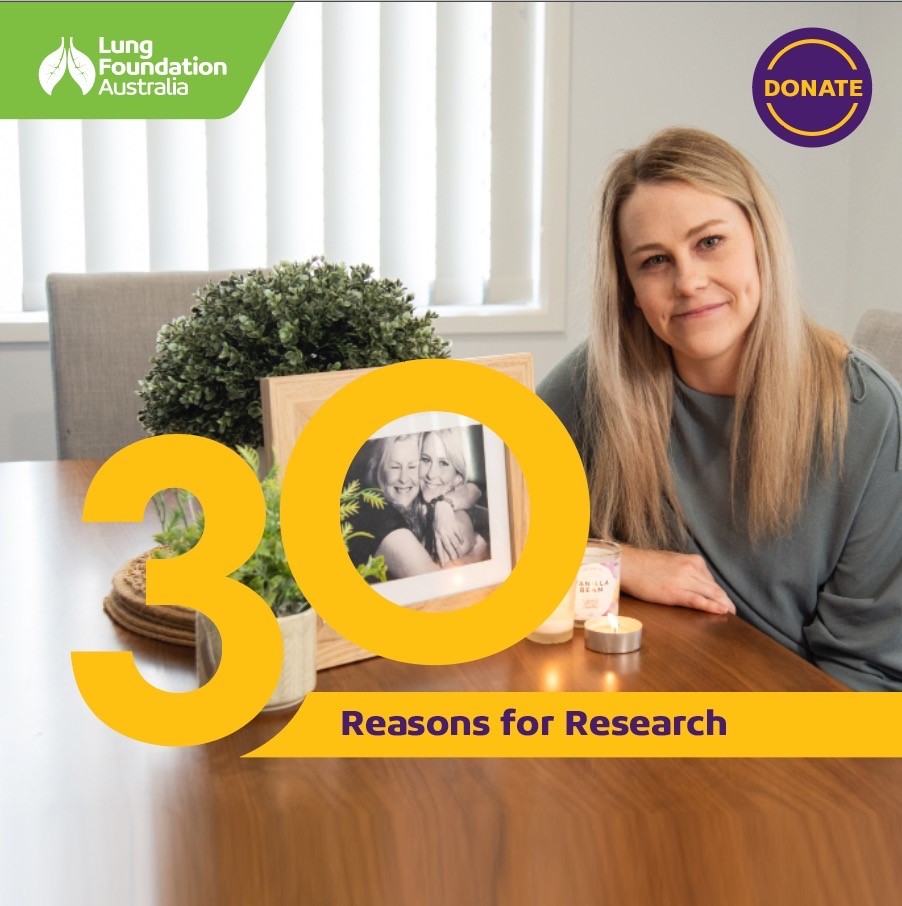 Meet the Donor
Since 1990, thanks to our generous community, we have raised and invested over $40.9 million in research that's revolutionising our understanding of these conditions, driving advancements in the prevention, treatment and search for a cure.
Dr Afaf Abed's research funding is made possible by the generous contributions made by the family of Ellen Yates.