The Hope Research Fund amplifies investments into life-changing advancements in lung disease and lung cancer research, with the powerful pledge to raise $50 million by 2030. Thanks to pledges and gifts from our passionate community, as well as our own $1 million investment, the Hope Research Fund launched in April 2021 with over $8 million towards our $50 million goal.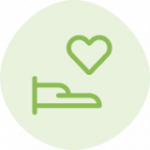 in investment to help 1 in 3 Australians
Hope through Research
Our challenge – 45 Australian families lose a loved one to lung disease and lung cancer every day. Research into these devastating conditions is severely underfunded. 
The Hope Research Fund will be Australia's leading national long-term commitment to funding life-changing lung disease and lung cancer research. With more money invested into discovering scientific breakthroughs we will bring new hope to millions of Australians impacted by lung disease and lung cancer. 
A hope that has never existed before – a hope for a cure.
Gifts in Wills are a vital part of the Hope Research Fund's success. With your lasting support, we can create a better tomorrow and ultimately find a cure for lung disease and lung cancer. Gifts left in Wills are the most powerful way to support Lung Foundation Australia. Even the smallest percentage of your estate, after your loved ones are provided for, will leave a bigger impact than you could have ever imagined. Every gift left to Lung Foundation Australia will support researchers funded through Hope Research Fund.
Free Gift in Wills Guide
For more information, complete the form below to download your free Gifts in Wills Guide.
Hope Research Fund Impact – Round Three
Lung Foundation Australia's Hope Research Fund invests in life-changing lung disease and lung cancer research. This document outlines the impact made Hope Research Fund up to January 2023.
30 years of hope
Since 1990, Lung Foundation Australia has invested 40.9 million into funding the ground-breaking projects of over 270 Australian researchers. We have also funded 31 clinical trials to advance treatments and care in lung cancer and Pulmonary Fibrosis. 
In recent years, advancements in treatments have seen an increase in survival rates and quality of life across several lung conditions – providing hope that has never existed before. 
In the last 20 years lung cancer mortality rates have decreased more than any other cancer. 
Since 2017, anti-fibrotic medications listed on the Pharmaceutical Benefits Scheme have greatly slowed the progression of lung function deterioration in people living with Interstitial Lung Disease. 
This is only made possible by the generous support from our passionate community – together we have made an undeniable impact on the future of lung disease and lung cancer. Now more than ever, we need to work together and build on the momentum created to drive real and lasting change. 
Investing in the future of research
Dr Clare Weeden, was awarded the Lung Foundation Australia/Deep Manchanda Early Career Fellowship in Lung Cancer in 2017.
"I would like to say to Rabia whose donation made my research possible, thank you from the bottom of my heart. Your generosity means the world to me and will go on to help more scientists made discoveries about lung cancer."
"Our research has previously focused on lung squamous cell carcinoma – the second most common subtype of lung cancer. Lung squamous cell carcinoma is often diagnosed too late, when the cancer is inoperable. Therefore, the ability to detect this cancer early would help more patients have life-saving surgery. We identified the cells that are likely to give rise to lung squamous cell carcinoma, known as basal stem cells, that are present in healthy airways. We uncovered evidence that these cells are the "seed" from which lung squamous carcinomas grow. The hope going forward is our discovery will allow for the earlier detection of aberrant basal stem cells and enable more patients to have curative surgery."