For Associate Professor Lucy Morgan, research means finding a piece of the puzzle that helps to improve the lives of her patients.
A/Prof Lucy Morgan has dedicated her career to improving the lives of Australians impacted by lung disease. Since receiving a Lung Foundation Australia research grant in 1999, the passionate clinician has been working from lab to bedside, giving hope to those who need it most.
Receiving one of the first Lung Foundation Australia Boehringer Ingelheim COPD Research Fellowships was an opportunity A/Prof Morgan considers sentinel in the path of her career. With the funding support, A/Prof Morgan completed her PhD in mucociliary clearance, developing a new way of measuring clearance for patients impacted by Chronic Obstructive Pulmonary Disease (COPD). Through this project, she created a software model for measuring the lungs' capacity to clear themselves.
"When I applied for the Fellowship I was very young and very green. It was the financial support that allowed me to put a lot of focus into the research project and to work a little bit as a respiratory physician. These grants offer amazing opportunities for early career advancement, particularly in this era where NHMRC scholarships are unbelievably difficult to get. It's a wonderful early first steppingstone into the grant process, publication process and an early step on the ladder in a career of clinical research in respiratory medicine."
A/Prof Morgan says medical research is all about puzzle solving on a shoestring – the teasing out of questions and the sorting out of the unsortable.
"I think research is about clarifying the minutia, about having time to really concentrate on a tiny little piece of the puzzle that can make the whole picture suddenly come into focus. The greatest joy in medical research is finding a piece of the puzzle that helps to improve the lives of our patients."
"Every year, we see the hard work of researchers from the recent past come to fruition in the clinic room and bedside. It gives us hope that similar breakthrough therapies might be just around the corner for all our patients."
For 30 years, Lung Foundation Australia has been partnering with organisations and individuals from our community to provide seed funds to support young researchers like A/Prof Morgan undertaking cutting-edge research projects.
"Many of our research projects have been funded by incredibly generous donations from individuals and groups that have been directly affected by lung disease. This gives these individuals an extraordinary opportunity to feel, justifiably, that they have supported ground-breaking research that really has the opportunity to change the lives of Australians with lung disease."
A/Prof Morgan says contributing funds to lung disease and lung cancer research "is not a drop in the ocean… it's the whole pool."
Research saves lives and gives hope for a cure.
Give hope. Give to research today.
---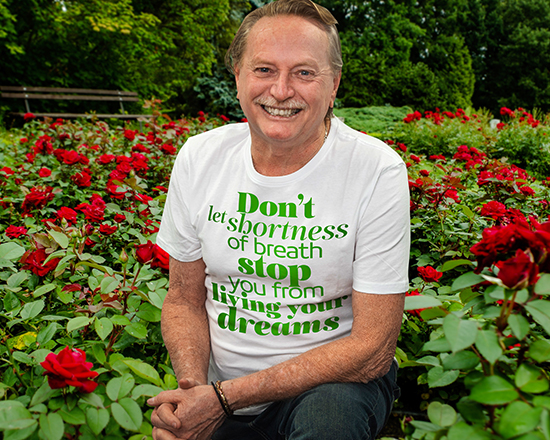 30 Reasons for Research
For Clayton, the work of Associate Professor Lucy Morgan means hope of a brighter future for those living with COPD. After initially being left "numb" by his diagnosis, Clayton has adapted his life so he can still enjoy his favourite hobbies such as gardening; and he hopes that one day research can mean a cure for all lung diseases.